Home
Free E-Mail
Bible Studies

Songs of Ascent (Psalms 120-134
Beginning the Journey (for new Christians). en Español
1, 2, and 3 John
1 & 2 Thessalonians
1 & 2 Timothy
1 Peter
2 Peter, Jude
1 Corinthians
2 Corinthians
7 Last Words of Christ
Abraham
Apostle Paul
Christmas Incarnation
Church
Christ Powered Life (Rom 5-8)
Colossians
Conquering Lamb of Revelation
Daniel
David, Life of
Galatians
Gideon
Great Prayers
Glorious Kingdom, The
Ephesians
Hebrews
Holy Spirit, Disciple's Guide
Isaiah
James
Jacob
Jesus and the Kingdom
John's Gospel
John's Letters
Joshua
Lamb of God
Listening for God's Voice
Lord's Supper
Luke
Mark
Moses
Names of God
Names of Jesus
Philippians
Psalms
Rebuild & Renew: Post-Exilic Books
Resurrection
Revelation
Sermon on the Mount

Christian Art
About Us
Speaking
Contact Us
Dr. Wilson's Books
Donations
Watercolors
Sitemap

Preface
Free E-mail Bible Study

Discipleship Training in Luke's Gospel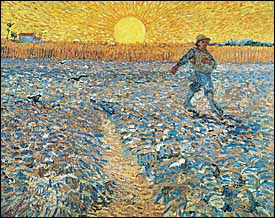 Vincent Van Gogh, 'The Sower at Sunset' (1888), oil on canvas, 21 x 32 in, Kröller-Müller Museum, Otterlo, Netherlands.
On their way to the great Jewish feasts in Jerusalem, the pilgrims that flowed from the towns and villages of Judea and Samaria would sing together, the hills echoing with their songs.
Fifteen psalms are identified in their ascriptions as "A Song of Ascents." This collection within the Book of Psalms is made up of the songs that these pilgrims sang together on their way to Holy City ascending the hills one by one until they reached Zion itself.
This series provides a daily meditation on each of these short but profound psalms. Each is longer than your standard "devotional." I'm trying to do justice to what the whole psalm says, rather than just lifting out an inspiring thought. But in the process of study, and then focusing in on the main theme of each psalm, I believe you will be enriched.
With each lesson I'm featuring a painting by Vincent Van Gogh. As you may know, I am a watercolor painter and love bold, brilliant color which was one of Van Gogh's trademarks in his later paintings. What I didn't know was that Van Gogh had been a deeply devout Christian. You can see his love for the land and the crops.
Dr. Ralph F. Wilson
Loomis, California
September 1, 2020
Copyright © 2021, Ralph F. Wilson. <pastor

joyfulheart.com> All rights reserved. A single copy of this article is free. Do not put this on a website. See legal, copyright, and reprint information.
Discipleship for New Believers
In-depth Bible study books
You can purchase one of Dr. Wilson's complete Bible studies in PDF, Kindle, or paperback format.

My books are available in paperback and Kindle from Amazon.