Home
Free E-Mail
Bible Studies

1 Corinthians
Beginning the Journey (for new Christians)
1, 2, and 3 John
1 & 2 Thessalonians
1 & 2 Timothy
1 Peter
2 Peter, Jude
1 Corinthians
2 Corinthians
7 Last Words of Christ
Abraham
Christmas Incarnation
Church
Christ Powered Life (Rom 5-8)
Colossians
David, Life of
Galatians
Gideon
Great Prayers
Ephesians
Hebrews
Isaiah
James
Jacob
Jesus and the Kingdom
John's Letters
Joshua
Lamb of God
Lord's Supper
Luke
Moses
Names of God
Philippians
Psalms
Resurrection
Revelation
Sermon on the Mount

Christian Art
About Us
Speaking
Contact Us
Dr. Wilson's Books
Donations Sitemap
Photos of Ephesus
by Dr. Ralph F. Wilson

Sign up now for a free

1 Corinthians Bible Study
Photos below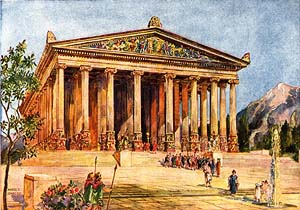 Drawing of the ancient temple of Diana at Ephesus, by Harold Oakley.
Ephesus the Seaport, Martin Ruzek, USRA
Library of Celsus (dramatic upward shot, from a distance)
Great Theater of Ephesus, scaled architectural drawing. Nearby photos
Copyright © 1985-2014, Ralph F. Wilson. <pastor

joyfulheart.com> All rights reserved. A single copy of this article is free. Do not put this on a website. See legal, copyright, and reprint information.