Home
Free E-Mail
Bible Studies

28 Advent Scriptures
Beginning the Journey (for new Christians). en Español
1, 2, and 3 John
1 & 2 Thessalonians
1 & 2 Timothy
1 Peter
2 Peter, Jude
1 Corinthians
2 Corinthians
7 Last Words of Christ
Abraham
Acts 1-12: The Early Church
Apostle Paul
Christmas Incarnation
Church
Christ Powered Life (Rom 5-8)
Colossians
Conquering Lamb of Revelation
Daniel
David, Life of
Galatians
Gideon
Great Prayers
Glorious Kingdom, The
Early Church: Acts1-12
Ephesians
Hebrews
Holy Spirit, Disciple's Guide
Isaiah
James
Jacob
Jesus and the Kingdom
John's Gospel
John's Letters
Joshua
Lamb of God
Listening for God's Voice
Lord's Supper
Luke
Mark
Moses
Names of God
Names of Jesus
Philippians
Psalms
Rebuild & Renew: Post-Exilic Books
Resurrection
Revelation
Sermon on the Mount
Songs of Ascent (Ps 120-135)

Christian Art
About Us
Speaking
Contact Us
Dr. Wilson's Books
Donations
Watercolors
Sitemap
St. Paul the Apostle
| | |
| --- | --- |
| "Saint Paul," Roma, 2nd half of 13th century (fresco fragments; 38 cm x 27 cm), Fabbrica of St. Peter's, Vatican Museum. Larger image. | |
A few years ago, a special jubilee year dedicated to St. Paul, was declared by Pope Benedict XVI. It ran from June 28, 2008 to June 29, 2009 marking the approximately 2,000th anniversary of the Paul's birth. The Apostle Paul has been an inspiration to many lives, including my own.
This website has many materials concerning St. Paul including:
Bible Study on Paul's Life

Apostle Paul: Passionate Discipleship. A comprehensive and inspirational study of Paul's life in 11 lessons. It traces Paul's life in Acts 8-28, as well as considerations of his ministry after his first Roman imprisonment. Available in free e-mail as well as book formats (paperback, PDF, and Kindle).
Artwork of St. Paul
Artwork Depicting St. Paul the Apostle -- paintings, sculpture, stained glass, fresco, etc.
Chronology of St. Paul's Apostolic Ministry
Chronology of St. Paul's Apostolic Ministry is only approximate, but is helpful in placing events and dates when he authored various letters.
Letters or Epistles of St. Paul
Bible studies in free e-mail and book formats: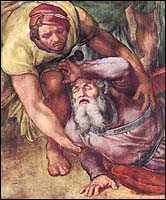 Detail of Michelangelo, "Conversion of Saint Paul" (1542-1545), Fresco, Pauline Chapel, Vatican. Full painting.
Videos on St. Paul
Year of St. Paul, Year of Ecumenism, ROMEreports TV (1:55)
Saint Paul was the apostle to the Gentiles (5:56) Paintings of Paul with Paul's words superimposed.
The Rabbi from Tarsus, monologue by Paul Bendele
Saint Paul of Tarsus (2:00). Introduction to St. Paul's life. Catholic News Agency TV.
Life of the Apostle Paul with Rick Steves (40:32). Evangelical Lutheran Church in America.
Films
Some of these have clips on YouTube, so you might search there.
"I, Paul" (1980), with Fred J. Scollay as Paul.
"Peter and Paul" (1981). Paul of Tarsus is played by Anthony Hopkins, Robert Foxworth is Peter the Fisherman.
"The Emmisary: A Biblical Epic (1997), with Gary Cooper as Paul.
"Paul the Apostle: The Man Who Turned the World Upside Down" (TV, Good Times Entertainment, 2001). David Kieran stars as Paul.
"Paul Apostle of Christ" (2018). Paul is played by James Faulkner, Luke is played by James Caviezel.
Feast Days
Conversion of Paul, January 25
Feast of St. Paul's Shipwreck in Malta, February 10
Feast of Saints Peter and Paul, June 29
Feast of the Dedication of the Basilicas of Saints Peter and Paul, November 18
Biographies
Copyright © 2022, Ralph F. Wilson. <pastor

joyfulheart.com> All rights reserved. A single copy of this article is free. Do not put this on a website. See legal, copyright, and reprint information.
Discipleship for New Believers
In-depth Bible study books
You can purchase one of Dr. Wilson's complete Bible studies in PDF, Kindle, or paperback format.

My books are available in paperback and Kindle from Amazon.