Home
Free E-Mail
Bible Studies

Songs of Ascent (Psalms 120-134
Beginning the Journey (for new Christians). en Español
1, 2, and 3 John
1 & 2 Thessalonians
1 & 2 Timothy
1 Peter
2 Peter, Jude
1 Corinthians
2 Corinthians
7 Last Words of Christ
Abraham
Apostle Paul
Christmas Incarnation
Church
Christ Powered Life (Rom 5-8)
Colossians
Conquering Lamb of Revelation
Daniel
David, Life of
Galatians
Gideon
Great Prayers
Glorious Kingdom, The
Ephesians
Hebrews
Holy Spirit, Disciple's Guide
Isaiah
James
Jacob
Jesus and the Kingdom
John's Gospel
John's Letters
Joshua
Lamb of God
Listening for God's Voice
Lord's Supper
Luke
Mark
Moses
Names of God
Names of Jesus
Philippians
Psalms
Rebuild & Renew: Post-Exilic Books
Resurrection
Revelation
Sermon on the Mount

Christian Art
About Us
Speaking
Contact Us
Dr. Wilson's Books
Donations
Watercolors
Sitemap

Series 5. Crucifixion and Resurrection (Luke 21:37-24:53)
Free E-mail Bible Study

Discipleship Training in Luke's Gospel
Free e-mail: Series 1 | Series 2 | Series 3 | Series 4 | Series 5 | Series 6 | Maps | All
19 Lessons (Lessons 94-112)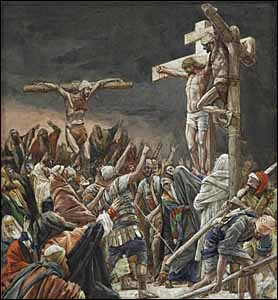 Now we look deeply into the Passion of our Lord Jesus -- his betrayal, the Last Supper, his prayer in the Garden of Gethsemane, Peter's denial, Jesus' trials and crucifixion, and the thief on the cross. This section concludes with joy -- Jesus' glorious resurrection, appearances to his disciples, his Great Commission, and his ascension. Overall, it examines the core of the gospel message:
"That Christ died for our sins according to the Scriptures, that he was buried, that he was raised on the third day according to the Scriptures." (1 Corinthians 15:3-4)
If you're not already studying Discipleship Training in Luke's Gospel to deepen your life as a disciple, this would be a great series to study during the six-week season of Lent, studying 3 lessons per week of the 6-week Lenten period that leads up to Resurrection Sunday. You'll find a particular emphasis on what disciples are supposed to be learning from these events to form their lives in Christ. Maybe when you finish, you'll want to start your disciple-learning at the beginning in Series 1.
Judas' Betrayal (21:37-22:1-6). Audio (28:15)

The Greatest among You Serves (Luke 22:21-30). Audio (17:44)
Simon, Strengthen Your Brothers (22:31-34). Audio (22:16)
New Provisions for the Future (22:35-38). Audio (14:56)
The Garden of Gethsemane (22:39-46). Audio (30:40)
Jesus' Arrest (22:47-54a). Audio (20:55)
Peter's Denial (22:54-62). Audio (17:08)
Jesus before the Sanhedrin (22:63-71). Audio (15:34)
Jesus before Pilate and Herod (23:1-25). Audio (29:16)
Crucifixion: Father, Forgive Them (23:26-38). Audio (32:41)
The Thief on the Cross (23:39-43). Audio (16:46)
Darkness and Jesus' Death (23:44-49). Audio (17:11)
Burial in Joseph's Tomb (23:50-56). Audio (14:45)
The Resurrection of Jesus Christ (24:1-12). Audio (18:59)
Appearance on the Road to Emmaus (24:13-35). Audio (25:01)
Jesus Appears to His Disciples (24:36-46). Audio (14:02)
Mission and Power (24:47-49). Audio (25:13)
Jesus' Ascension (24:50-53). Audio (17:18)
Copyright © 2021, Ralph F. Wilson. <pastor

joyfulheart.com> All rights reserved. A single copy of this article is free. Do not put this on a website. See legal, copyright, and reprint information.
Discipleship for New Believers
In-depth Bible study books
You can purchase one of Dr. Wilson's complete Bible studies in PDF, Kindle, or paperback format.

My books are available in paperback and Kindle from Amazon.